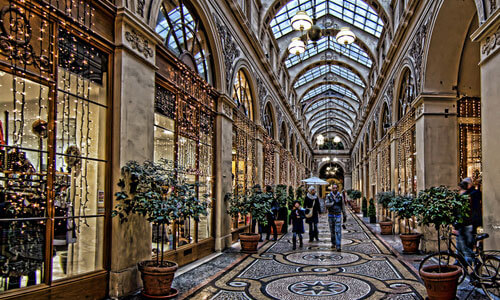 Parisian covered passages
Located between the Royal Palace and the Opera District, you will not be able to discover them if nobody points the way for you.
Remote ancestor of the modern shopping centres, where there was a privileged place to walk for ambitious bourgeoisie in the 1830s. At a time where walkways did not even exist, it was customary getting dirty when walking along the street. Few clever men then had the idea to create covered lanes where people can walk and doing shopping sheltered from the rain. You will be surprised by the calm and the charm of these small very French shops.
Design and atmosphere have been preserved and you will do a surprising leap into the past.
Duration : 2.5 hours walking tour
Rate : €260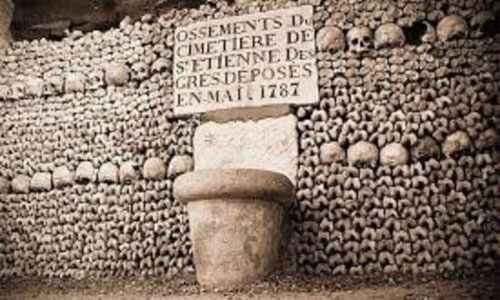 Catacombs
The origin of the Paris Catacombs, which it would be better to call "Municipal Ossuary", goes back to the end of the 18thcentury.
Just before the 1789 French Revolution, disused quarries were chosen to receive 6 million human remains originating from disused cemeteries.
During World War II, the command post of the leaders of the French Resistance organised the Liberation of Paris from these hidden and underground galleries.
You will go down to a depth of 25 meters under the streets of Paris and when walking you will have an impressive experience amongst the bones.
Closed on Monday
Duration : 2 hours walking tour
Rate : €250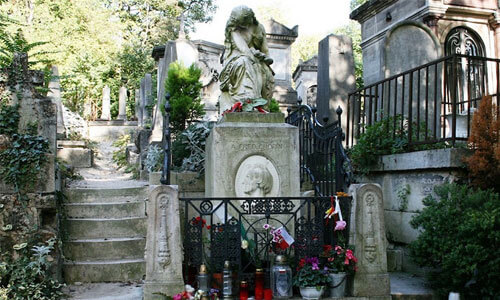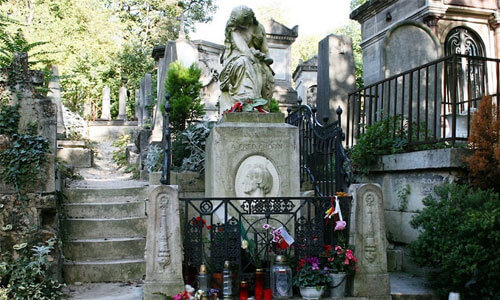 Pere Lachaise cemetery
It is Paris's largest graveyard and the world's most visited. Open air museum as many as 60,000 graves are masterpieces of sculpture. There are buried in a huge English garden throughout the 40 ha of land. Many historical personages are buried here such as Jim Morrison, Edith Piaf, Oscar Wilde, Frederic Chopin, Molière, etc…
Major place for historical commemorations, Pére Lachaise cemetery is still today a place for pilgrimage. As is the Wall of the Communards against which the last socialists' resistance fighters of the Paris commune were shot in 1871.
Walking visit of 2 hours
Rate : €280